A report* issued in 2019 suggests that public transport is the third most preferred mode of transport in urban India, next to walking and using a personal motorbike. The fourth most favoured method of transport is personal car. The report also highlights that the most important reasons for not using public transport were poor 'quality of infrastructure' (poor quality bus stops or metro stations, inadequate lighting, lack of level access, etc.), low 'frequency of service', and 'lack of seamless travel' (too many interconnections, poor quality seating within the bus or metro, etc.). 'Last-mile/first-mile connectivity' was also cited as a barrier to using public transport.
Outlined below are major issues in Indian cities that push the commuters away from using public transport:
 Different independent agencies plan, manage and operate various transport entities without the requisite coordination amongst them.
 Increased dependency of citizens on personal automobiles due to lack of city-wide coverage by public transport system.
 Lack of physical integration amongst terminal points for different modes leads to accessibility issues and creates a mental block against usage of public transport.
 Lack of information regarding availability of parking slots, traffic signage and public transport scheduling also act as a deterrent for commuters to use public transport.
There is a huge gap between the current transport situation and what is required to improve the situation. This gap can be effectively filled with Multimodal Transport Application based on IUDX.
Imagine a scenario where an 18-year-old student travels every day to one end of the city from another to attend his college. He has to walk a few kilometres and change buses thrice due to lack of a direct bus and connectivity from his home/college to the bus stop. Every day he spends considerable time waiting for busses and also has to pay at multiple times for a single trip. Add to it the uncertainty of bus arrival time, missing the bus when he is delayed and other factors like rain, need to get to destination faster etc.
IUDX based Multimodal Transport Application takes care of all these variables, ensuring a hassle-free journey every single time. With this application, users will be able to access suggestions for optimised routes based on multiple factors like safety, carbon footprint, user's personal preference like travel cost, preferred mode of transport, maximum time a particular mode to be used viz. cycle, walk path, etc. They can then select one of the routes out of multiple options offered. Single point payment for all the modes used can also be done as the app provides an integrated single payment platform. The application offers convenience, cost effectiveness, helps reduce pollution and motivates people to affordably use public transport.
According to a study by the Institute of Social and Economic Change in the city of Bengaluru there is direct link between vehicle population, congestion and health of people, an issue that the application can address by promoting the use of public transportation. The study revealed that 37% of the commuters using their own vehicles complained of asthma, while nearly 47% to 50% reported stress, respiratory issues, back pain and other illness. The responders of the study who travelled in metro fared better, with only 22% reporting issues like asthma, though 40% said they had respiratory problems and 55% reported stress and blood pressure.
The diagram below shows how IUDX integrates data from various modes of transportation and enables Multimodal Application to assist the citizens in having a hassle-free commute within the city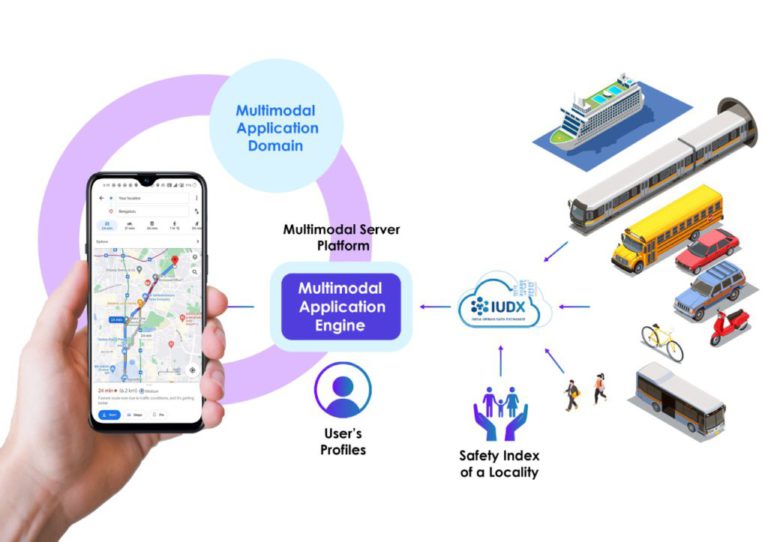 Recently, IUDX executed a pilot Multimodal Transport Application project in the city of Surat with Citility as the application partner. The application currently uses the below mentioned datasets from Surat City via IUDX, source and destination as input from users, and presents with a set of recommended routes.
Public Transit Bus
eBike (Chartered Bike)
As next step, the application is being modified to incorporate more modes of private transport data viz. cab aggregators, taxis, etc. and also safety index data to suggest the safest possible route.
Apart from Surat, many other smart cities in the country are working with IUDX on this particular use case to provide their citizens similar application and make travelling within the city sustainable and hassle-free. More so, this application will also help the authorities design and plan better public transport system with well-defined modes supporting the main network. This is just the beginning of public transport revolution.
* How Urban India Moves -Sustainable Mobility and Citizen Preferences