In Ludhiana, waste matter from Tajpur Road enters sewerage lines through open manholes leading to sewage overflow in wards 12, 13, 15 and 16.
Galand locals protest solid waste being dumped from Ghaziabad.
Several villages in Kurnool district are facing shortage of garbage dumping yards. As a result of which the household collected garbage is being dumped on the roadside.
Indiscriminate dumping of garbage near the Anganwadi centre at Lakshminagar village in Vijaywada has turned into a hazardous zone for the children, staff and residents.
The study showed that over 8.4 million tonnes of pandemic-associated plastic waste has been generated from 193 countries, of which over 25,000 tonnes has been released into the ocean.
A 15-day-long cleaning exercise in the Ramganga that flows through the Corbett Tiger Reserve yielded almost 50 quintals of trash recently.
These are some of the news items you will find when you do a quick search for stories around "waste" on the internet. Each of these articles highlight one of the major question marks the country is facing today – how to effectively collect and manage solid waste?
India generates approximately 62 million tons of waste annually. According to estimates, it could reach 165 million tons in 2030. It is a gigantic task to collect, transport and dispose this huge amount of solid waste, especially in urban areas where rapidly growing population has outpaced our ability to manage solid waste effectively. Existing systems for the collection, transportation and disposal of solid waste are mired in chaos across the country.
Improper management of solid waste poses risks to public health and can be the reason behind many diseases plaguing our cities. Dumps of solid waste in our cities are not just eyesores, they can potentially be major environmental hazard. The cost of addressing these impacts is many times higher than the cost of developing and operating simple, adequate waste management systems. The current pandemic has made situation worse with exponential increase in use of single use plastics and other disposables.
Statistics suggest that only 68% of the total waste generated in the country is collected, of which only 28% is treated by municipal corporations. The need of the hour is to three-fold to effectively manage the crisis: Educate people on more sustainable and less waste generating lifestyle; have a robust solid waste collection mechanism; and plan for effective waste disposal and recycling.
IUDX, with its Solid Waste Pickup Route Optimization use case, can effectively support city municipalities in optimising their waste collection efforts. This use case addresses the current challenges in waste pickup through monitoring mechanisms, instant communication, data-based decisions, and automation. This not only brings efficiency to the whole solid waste management life cycle, but also cost effectiveness, convenience to the citizens and cleaner, healthier environment.
The diagram below illustrates how the backend AI/ML algorithms datasets from IUDX and generate/modify route plans for faster waste pick up, optimal fuel usage and citizen convenience.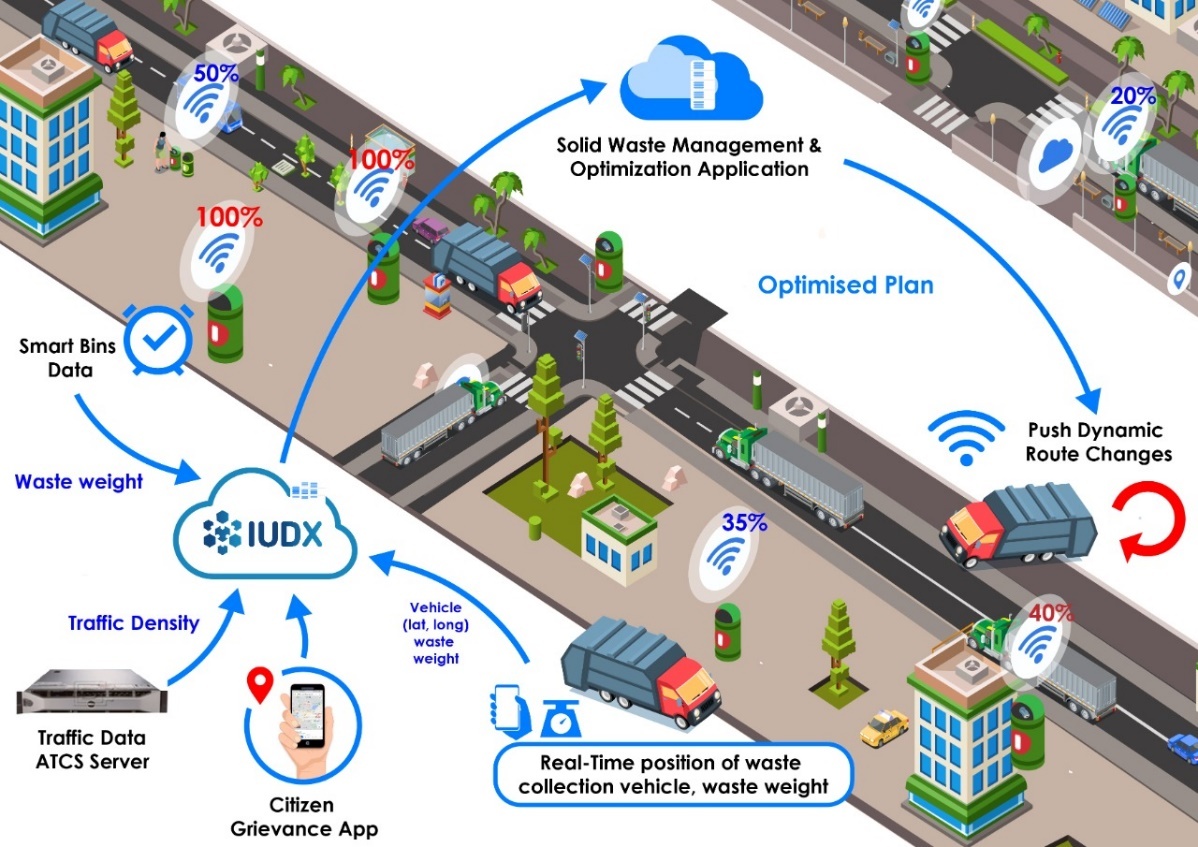 A pilot of this use case has been executed in the city of Varanasi, which generates 600 metric tonnes of waste every day spending INR 113 Crore per annum in the process. This pilot was executed in partnership with Hitachi India. This pilot project has shown that the optimization of solid waste collection routes also cuts on the cost factor by 30% on an average in a city; money that can be effectively used for multiple other things. Currently, multiple other cities are working with IUDX to effectively navigate through the enormous waste generated every day.