India is the land of many charms offering tourists a bit of every experience. A kaleidoscope of traditions, culture, and vibrant geographies, the country is among the most popular tourist destinations in the world. Tourism is an important foreign exchange earner for India and is seen as a major tool to bring about socio-economic development for the people of the country. India recorded a total of 18 million tourists in 2019, ranking 14th in the world in absolute terms.
But India can also prove to be extremely overwhelming to tourists because of various reasons like the complicated transport system, accessibility, language barriers, safety, security etc. For instance, navigating through the tiny lanes of Varanasi could prove to be challenging for not just the foreigner, but also native Indian residents. The need of the hour is to support the tourists with valid and relevant information like a tour guide who has all the information on his fingertips, but digitally. The application should be able to help tourists in navigating the city streets by providing information about the safe routes to travel through, useful and interesting information about attractions, different places for rest and amusement, and places for emergency support like hospitals and police aid posts etc.
One can argue that the Internet provides tourists with all the relevant information for planning their activities and a separate application for the tourists is not required. While this is true in terms of the availability of the information, one cannot comment on its authenticity. Also, the information is scattered, not in real-time and definitely does not help tourists in choosing safe routes, integrated payment systems, and a lot more.
The IUDX-based tourist guide application can help just that. This app can engage the consumer through location-specific content and help them have a better experience while exploring the city. The below diagram elaborates how the application takes the tourist spot information, ratings, safety index of streets/places, user preferences (duration, budget), and provides required guidance to the tourists in the city, along with a unified platform for ticketing.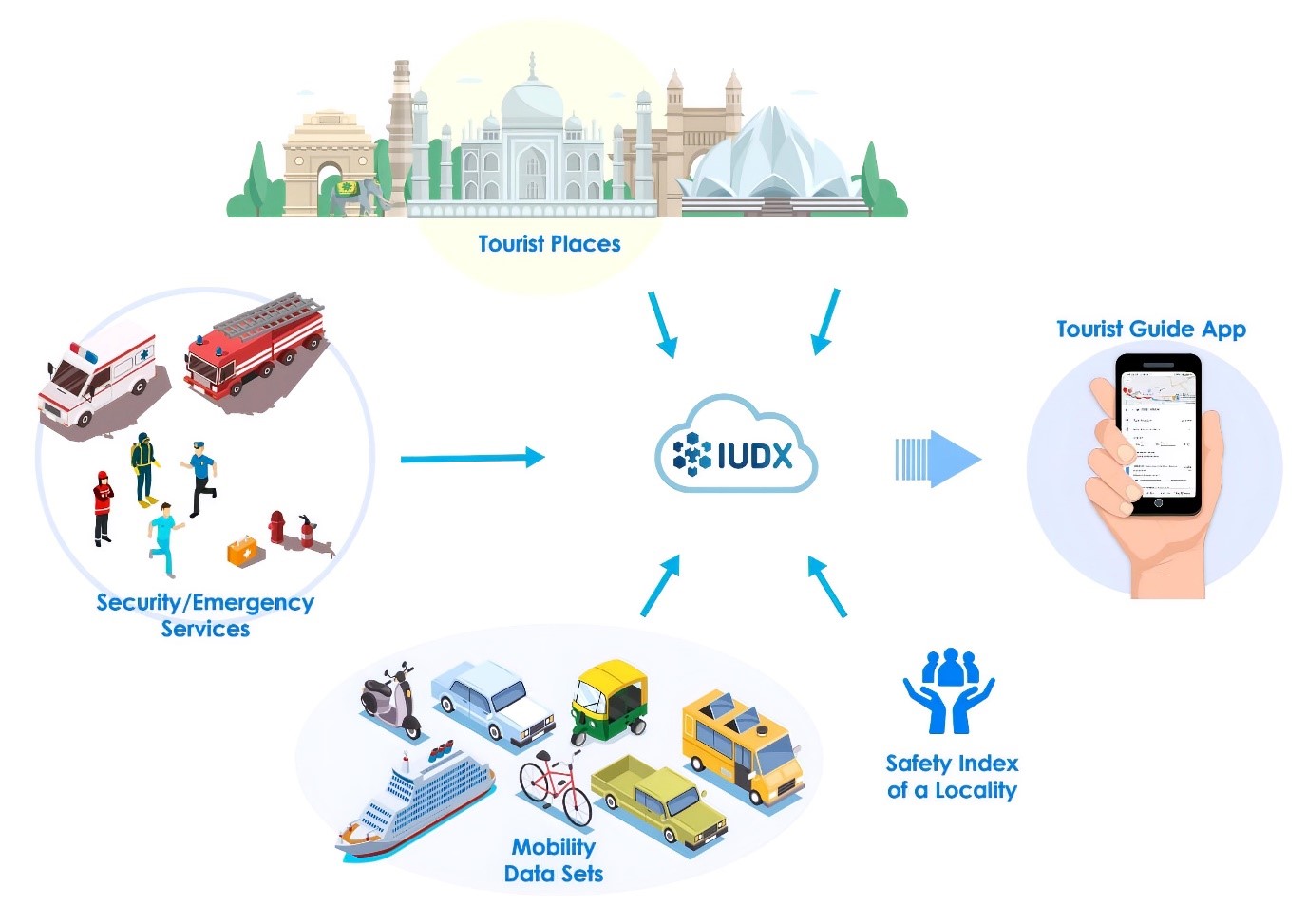 Presently, IUDX is working with the city of Varanasi to come up with the application that would help not just lakhs of tourists who visit the holy city, but also the city administration by helping increase revenue and collect valuable insights.