Integrated Command and Control Centres or ICCCs are integral to the execution of smart city projects under the Smart Cities Mission. They are envisaged to be the brain for city operation, exception handling, and disaster management. They are also meant to act as a
decision support system for the city administration to respond to real-time events. This is achieved by the ICCCs consuming data feeds from the multiple applications and sensors deployed across the city, like water, waste management, energy, mobility, the built environment, education, healthcare, and safety; and then providing insights by processing these complex data sets at an aggregated level to derive intelligence for improved planning and policy making. 
The ICCCs have the potential to play a pivotal role in improving the liveability of a city by ensuring efficient service delivery and quick response to emergencies/crisis situations/hazards. It will in turn assist in improving the benchmark scores of cities on the liveability index by enhancing the monitoring of city services, data collection and analysis, based on which the ULBs can make informed decisions leading to a better quality of life for the citizens. 
One can gauge the importance of the ICCCs by the fact that they were converted into war rooms during the COVID-19 and they helped the cities fight the pandemic through information dissemination, better communication, predictive analysis and supporting effective management.
One of the biggest challenges that ICCCs face is bringing in the data from the city solutions. It is one of the most time-consuming and manpower-intensive tasks of any ICCC deployment. This issue can be easily solved too with a cost saving of 15 to 20% depending on the city & context and ecosystem.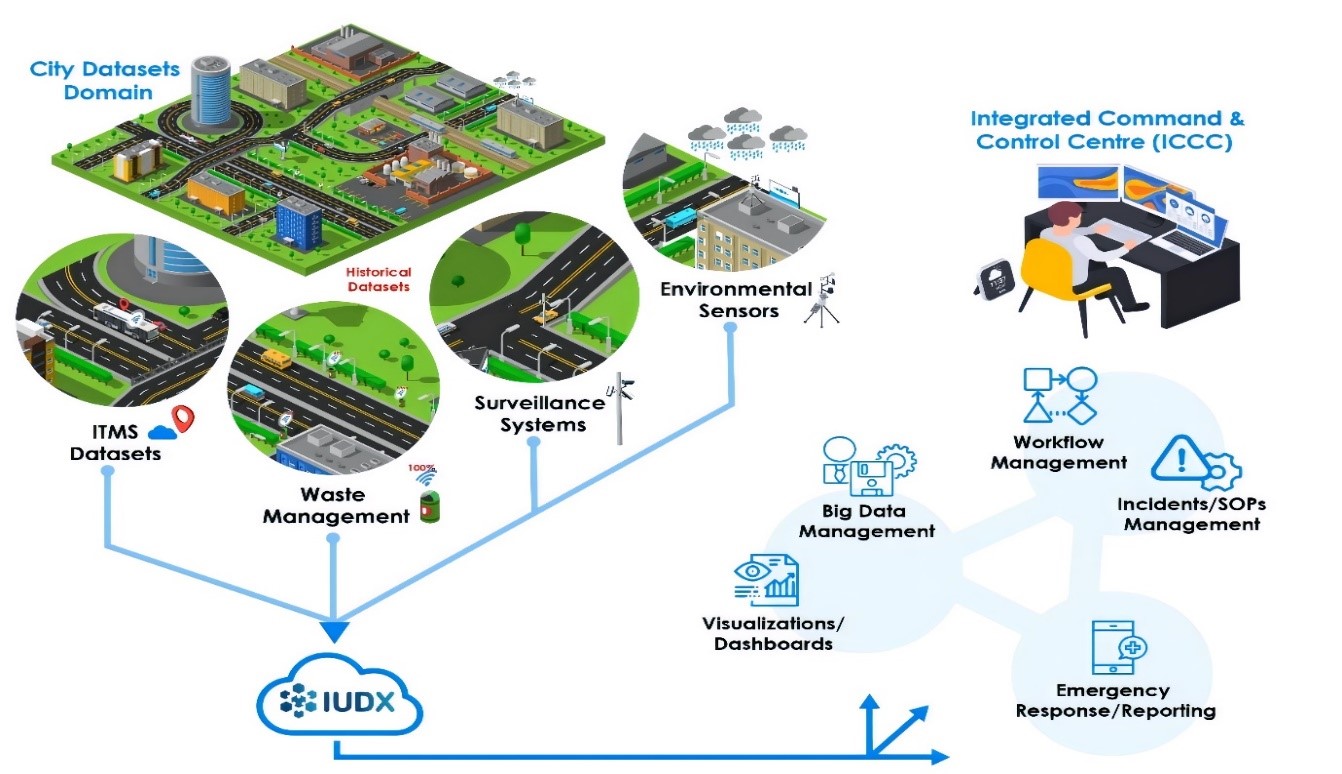 As depicted in the diagram above, in this faster and more cost-effective process, ICCC platform takes the data from IUDX APIs, which offers secured data access in standard data format. 
Since IUDX abstracts vendor APIs and provides standard API to access the same data, the ICCC could be deployed across cities without changes if integrated on top of IUDX. This also gives the possibility of running visualizations on the IUDX data in case the ICCC is down, which adds redundancy to city operations. Further, this comes with the flexibility to choose any ICCC for the new contracts and renewals with no vendor lock-in. This is a win-win situation for both IUDX and ICCCs.