"IUDX is an integral part of the government's Data Smart strategy and designed to have a broad and long-lasting impact on urban life. It will allow us to use data to create insights that help us address the highly complex problems faced by our cities today. Through its secure yet cost effective approach, IUDX will also play a crucial role in promoting open innovation, allowing companies, researchers and others to collaborate effectively. We are proud to work with IISc to launch the IUDX initiative."
​
The IUDX program is an excellent example of how collaboration between academia, government and industry can create something of significant value. All stakeholders in the Indian Smart City ecosystem will gain from this initiative. It has enabled academic institutions and research labs to conduct more meaningful research by having direct access to a wide variety of data. IISc is proud of its contribution to the conception of IUDX, and is privileged to nurture this effort as it evolves into a major national asset.
Inder is the CEO of IUDX Program and is also an Industry Professor at IISc. He was previously Vice President of Software at Ericsson, where he was instrumental in launching their Edge computing efforts. Before that, he was Vice President of Networking at IBM, where he had responsibility for all of IBM's hardware and software networking products. He has also served as Chief Architect of AT&T and Chief Technology Officer of Prodigy.
He has founded, built-up, and successfully sold two venture-funded start-up companies, ReefEdge and Iptivia, and is an investor and board member in a few others.
He served as the Founding Chairman of a leading open source networking software group, OpenDaylight, recruiting dozens of top-tier companies to participate.
Inder has also had a distinguished research career in the area of computer networks, with 20 patents and more than 70 technical publications to his credit. He worked at the IBM T.J. Watson Research Centre, earning two IBM Outstanding Innovation Awards. He has served as editor of several technical journals and was elected Fellow of the IEEE. He has a PhD from Columbia University, New York and a BA from Oxford University, England.
Dr. Inder Gopal - CEO
Dr. Abhay Sharma - VP Development
Abhay is the VP Development at IUDX Program. He has over two decades of experience. He did B.E. Electrical and Electronics Engineering from BITS Pilani in 1996; the M.S. degree in Electrical Engineering from Ohio State University in 2000 and the PhD degree in Electrical Communication Engineering from IISc Bangalore in 2015.His industry journey started with Motorola India Electronics Ltd., Bangalore where he worked from 1996-1998 in the area of Digital Signal Processing. From 2000 to 2005, he was with Analog Devices, Inc., Wilmington (USA) and Bangalore, where he designed and implemented physical layer algorithms for cellular communication.
From 2006 to 2009, he got a taste of working with a start-up AllGo Embedded Systems, Bangalore, where he worked in the area of high-performance video signal processing and emerging personal area network wireless technologies.
After finishing up his PhD from IISc, he joined Qualcomm India, Bangalore where he worked from 2015 to 2016. Subsequently, he joined the Robert Bosch Centre for Cyber-Physical Systems, IISc and worked mainly in the project that went on to become IUDX.
Suresh leads the Deployment team at IUDX Program. Suresh has over three decades of product development, business development and consulting experience in Defense, Automotive, Telecom, Semiconductor, Consumer, IoT and Smart City domains across Start-up, Government, European and American organizations. He has built multiple products and businesses from concept to scale and possess special skills in evaluating existing products, innovation, proof of concepts, incubation, advisory, market creation and agile development methodology. Suresh built the Smart City solutions and business for Bosch for  five years before joining IUDX Program team.
Suresh holds an engineering degree in Electronics and Communication from Kerala University, Software specialization from Indian Institute of Science and Business Management from Indian Institute of Management Bengaluru.
Suresh Kumar - VP Deployment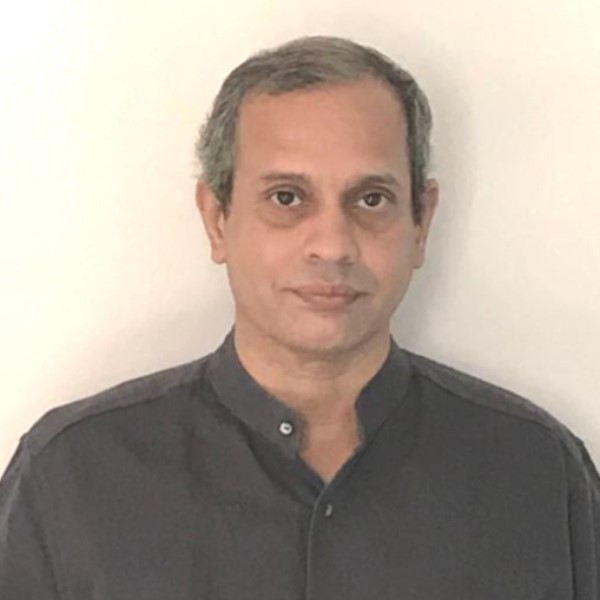 Krishna Kumar- Head, Consortium and Partnerships
Krishna is Head of Consortium and Partnerships at IUDX.  He has over three decades of experience in digital consulting, supply chain management and banking.  Over the course of his professional career Krishna has helped build partnerships with multilateral agencies like UNDP, IFC, etc., with foundations like Tata Trusts, Azim Premji Philanthropic Initiatives, etc., Government bodies and start-ups.  Over the course of his career, Krishna has worked in leadership positions in both both the for-profit enterprises and the social sector.  Krishna has worked extensively in India, US, Europe and the Asia-Pacific regions.
Krishna is an engineering graduate from Anna University and a PGDM from IIM Ahmedabad
Bala comes with over 26 years of rich and diversified experience in the fields of e-Governance, Government Business Process Re-engineering, Relationship Management, Operations Management, Program/Delivery Management etc.
In his earlier role as Project Director for the DISHA Dashboard of the Government of India under the Ministry of Rural Development, Bala was instrumental for implementation of deep-dive analytics of various Centrally sponsored schemes and designing the MAPS & AC-PC modules in the system. In addition, he was the SPOC for all the Central Ministries for onboarding of schemes onto the DISHA Dashboard.
In his past role as GM-IT, Bala implemented an end-end EHR compliant Digital Health System for the States of Andhra Pradesh and Telangana, which were the model pilot installations in Public Health facilities in the country. He also steered the successful implementation of the comprehensive Supply Chain Management System of Drugs & Surgical for the two states, visiting nook and corner of both the states for training and CB activities. These systems were the first to implement the SNOMED-CT Standards for health systems in the country. The programs received many awards and accolades at various forums.
During his first stint with eGovernance projects in 2009, Bala headed a team working on one of the first e-Gov projects in India, the MCA21. He worked as the Project Manager for the LLP Project and succefully implemented the program across India within a short period of time, and under constrained budget.
Bala has been an entrepreneur in his early life, starting with Business Consulting in IT and going on to become a product company, making multimedia based education oriented games for kids of age 2-12. The products were sold across continents, when the masses didn't relate with Start-ups. The product/business was later taken over by an American Company.
Balasubramaniam Gauthaman
Director - Business Development